Story of the Best Year Ever!
Winning Strategies to Thrive
" To get the best out of your team you must treat them like a bank account. You must make a lot of deposits before you make your first withdrawal"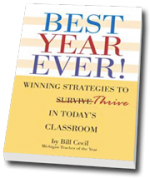 Attendance - Attitude - Effort
What motivated Bill to write this book was his deep concern that too many novice teachers were leaving this tough but rewarding profession before they had the chance to taste success in their own classrooms. While writing this book, Bill knew that these strategies and techniques worked in the classroom, but he also knew that they could be applied across all industries. The strategies found in Best Year Ever! are ones that every organization needs in order to be successful. They were cultivated from a cumulation of business books that shaped the way Bill prepared his students for success inside and outside of the classroom.  From creating an elevated environment to planning and organizing the present and the future, Bill's book provides winning strategies for everyone who reads it.
Michigan Teacher of the Year 2003-2004

Bill was chosen Michigan Teacher of the Year for 2003-2004. He spent that year on sabbatical working for the Michigan Department of Education setting an ambitious goal to meet with as many educators, legislators, community members and teachers in training as possible sharing many of the techniques covered in Best Year Ever! Winning Strategies to Thrive In Today's Classroom.